Client: The Wiener Library
Role: Graphic interpretation | Graphic design management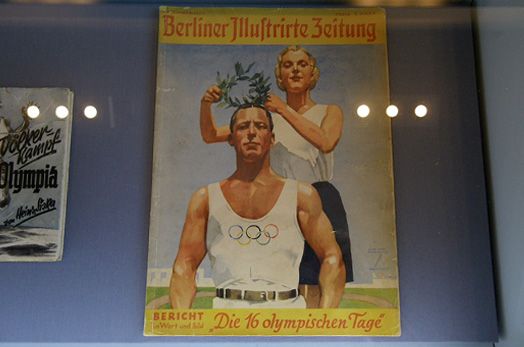 This temporary exhibition is housed in the Wiener Library, London – one of the world's leading and most extensive archives on the Holocaust and Genocide.
The Nazi Games co-incides with London's celebrations of the 2012 Olympic Games, and focuses on the 1936 Olympics in Berlin. The Games were exploited by the Nazi party, who created images of racial purity and 'Aryan superiority'. The subtle, exploitative marketing of the Games, prior to the event, hid the Nazi 'brand', but on arrival, visitor were greeted with swastikas and salutes. Ironically however, the 1936 Olympics saw four gold medals won by black athlete Jesse Owens, and Nazi persecution triggered the creation of the Paralympic movement.
This colourful exhibition uses existing fittings, and is printed onto magnetic material, allowing the Library to replace the panels quickly and easily. It is accompanied by projections, and cases containing objects and marketing pamphlets.
Print by Echo Studios.