Client: English Benedictine Congregation
Role: Website design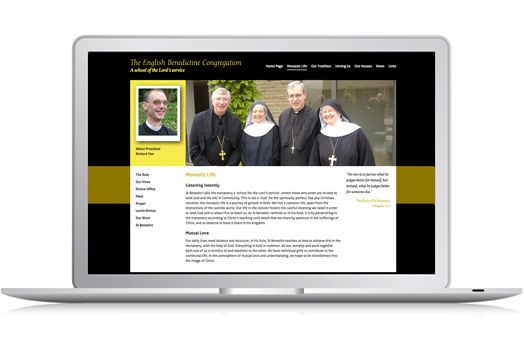 Following our work at Ampleforth Abbey, we were approached by the English Benedictine Congregation to design their new website. The website is aimed at people who are interested in joining the Congregation, and is full of interesting information about the EBC's history, its houses, its way of life and what to expect if you join.
Our understanding of the Community's way of life allowed us to create a respectful, but modern design that the Community's website administrators can update and build upon themselves.
We brought in Castlegate IT to build and host the site.
"I have no reservations about recommending Kate and her team at Bivouac. They were able to take on board our ideas and the overall impact we hoped to achieve and make it a reality; combining visual creativity, professionalism and genuine customer care." Sr Josephine Parkinson, Stanbrook Abbey, on behalf of The English Benedictine Congregation