Client: National Army Museum, London
Role: Design for print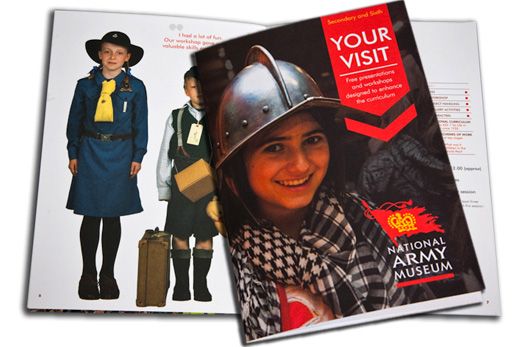 We were commissioned by the National Army Museum, Chelsea, to design literature aimed at increasing their visitor awareness.
There are three areas being targeted: Adults, education visitors and army visitors.
We designed the education literature, producing two A5 booklets. One is aimed at Primary and Preparatory schools and the other at Secondary and Sixth Form audiences. The format is designed to allow busy teachers to quickly identify relevant curriculum areas to help them make decisions quickly and easily.
The booklets have been produced in liaison with the Museum's marketing and education specialists.
"Thank you very much for all of your hard work on the schools materials. They've been judged to be a real success here, and the Education department have been inundated with enquiries this term!" National Army Museum, Chelsea