Client: Council for British Archaeology
Role: Branding | Graphic design | Templates | Illustration | Website design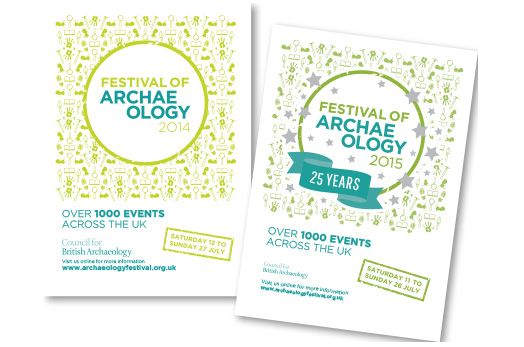 Bivouac was commissioned by the Council for British Archaeology (CBA) to design a new brand and marketing suite for its annual Festival of Archaeology. The festival is a national event and has hundreds of events for people of all ages and interests from archaeologists to families and schools interested in history.
We designed a logo for the event that reflected the CBA's brand, but allowed the festival identity to be updated annually. To accompany this, a suite of icons were designed, that form part of the wider brand. These icons come into play in the website and programme, where they denote event types.
To bring the events to a wide audience and allow the CBA to update events with ease, we also designed a website for the festival.
Posters and flyers were designed as templates in English and Welsh, to allow multiple event organisers to keep the brand consistent while being cost-effective and easy to use.